Yearbook 2010 – Winter League Masters Trophy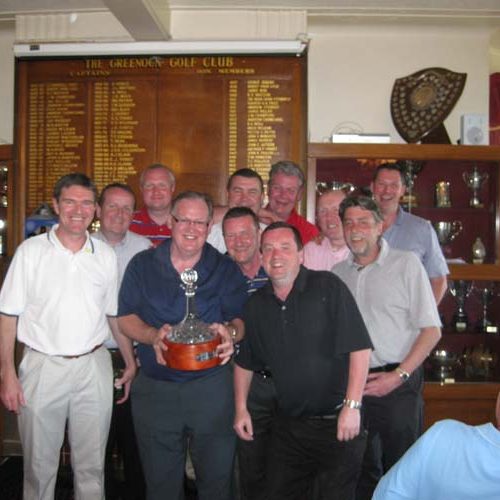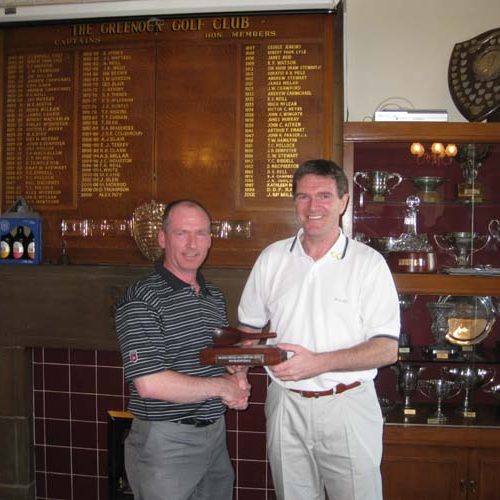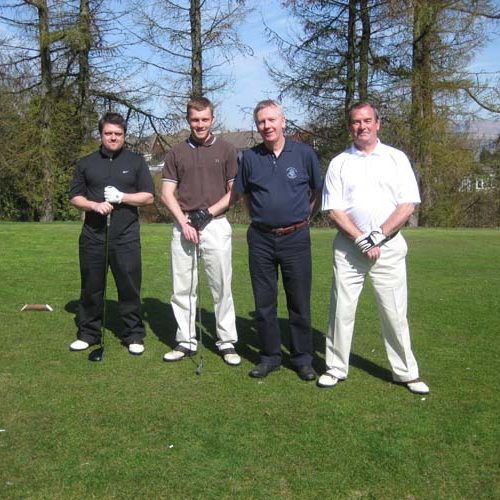 Robert Leith proudly accepts the wooden spoon.
US Masters Sunday saw the inaugural Winter League Masters Trophy – a Ryder Cup style match involving all our winter leagues and a Rest of the World team. The idea developed last year after two of our winter leagues arranged a challenge match. The idea to have a match for all the leagues was put up as a forum topic and was well received with a lot of good ideas being pulled together to form the basis for the inauguaral match.
Talk about a lucky break, the weather on Sunday was 5 degrees above normal and what a day it turned out. The course had dried out just in time following a fortnight of heavy rain and all competitors turned up on time giving us a field of 96 players in 8 teams of 12 players to play for our new Masters Team Trophy which was a shotgun start with 4 players on all holes on both 9 & 18 hole courses. So a great start. For many it was their first opportunity to play as part of a large team in competitive play and to take part in a shotgun start at Greenock, this novelty factor helped make the competition a success.
Each team nominated a team captain to pick a team of 12, select pairings for the big course and 4 steady singles players for the 9 hole course. Its not all sunshine and roses for the team captain, however, as Robert Leith, team captain for the Sunday League found out when his team won the Wooden Spoon. Poor Robert has been circulating amongst his team and thought they were in with a shout as winners. He was genuinely in shock when his team was anounced as wooden spoon winners. There followed a parting of the ways in the crowded Lounge to let Robert step up to accept the wooden spoon trophy (Made expertly by member Ian S Duncan). Funnily enough none of his team stepped forward to accompany him on the long walk of shame and he was subjected to a loud and unprecedented reaction form the rest of room to congratulate him on his team performance. His face was a picture to behold and this was the truly memorable moment of the day. Not a good incentive for me getting team captains next year though….
Notable incidents on the day included George falling flat on his backside as he left the 6th tee which for some reason those at the prizegiving found funny. Dave McFarlane popped up to the club during the day and was upset at us hogging both courses from 12 noon to 4:30 when he wanted to practice. This was brought to the attention of those at the prizegiving and they all agreed that this was unfortunate and apologised for any inconvenience….at least I think that's what they meant by their reaction.
Another notable on the day was Stevie McDowal winning the free years membership which was drawn by bar staff after the prizegiving.
Runaway winners on the day were Billy Dixon's team, The League of Extrardinary Gentlemen and Eejits, who won the fantastic new trophy sponsored by Surridge Sports (Thanks to Alec Cloudsley) convincingly by 10 points clear of the nearest team. As you would expect, Billy accepted the Trophy with humility and respect for the other teams and wished them well for next year…………….Aye right. Billy gave the other teams both barrels as only he can to chants of "SUBOOO, SUBOOO, SUBOOO"…….I suppose he did look a bit like Susan Boyle with his hair all messed up.
Looks as though the match was a success and should run next year. We'll invite feedback on the format on the forum but points already mentioned were that the 4 ball on the big course should have 3/4 handicap allowance rather than full handicap. Prizes for best individual scores on both courses would be another worthwhile addition. A few members said they'd have happily put up bottles to help with the budget as we went over a bit on costs.
With true humility & respect for his other competitors Billy Dixon & his team step up to receive the inaugural trophy from Captain Charlie Paul.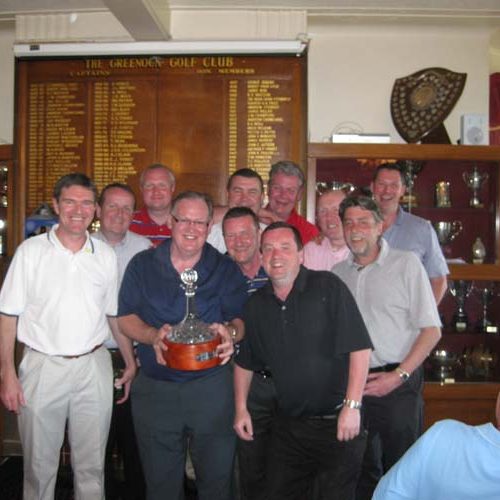 With true humility & respect for his other competitors Billy Dixon & his team step up to receive the inaugural trophy from Captain Charlie Paul.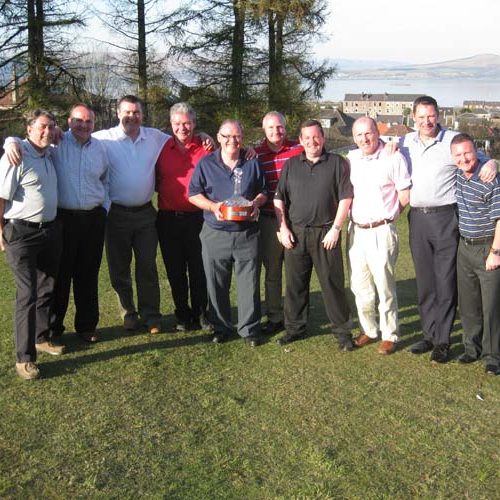 Pictured left to right- Charlie Paul, Jim Elliot, Iain Jones, Billy Dixon, Gerry Bell, Stevie McDowal, Rab McLaughlin, John McKirdy, Stuart Blue, Frank McCormick, Andy Gunn.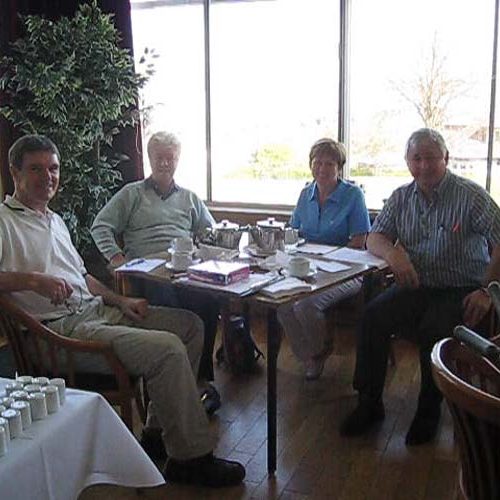 The organisers drinking coffee again – Charlie Paul, Cathy Forbes, Moira Paul, Charlie Marner.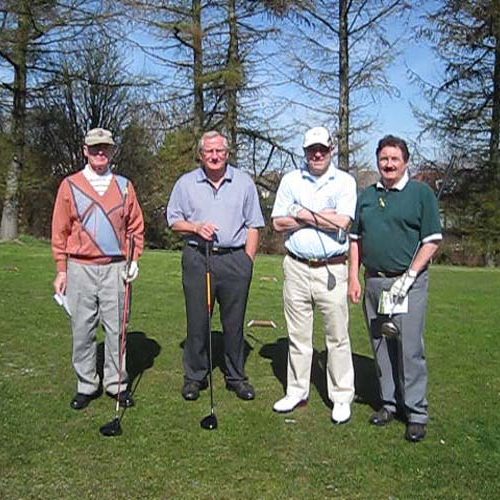 Bill McCorkill, Dave Terrey, Andy Brands, Jim Gallagher.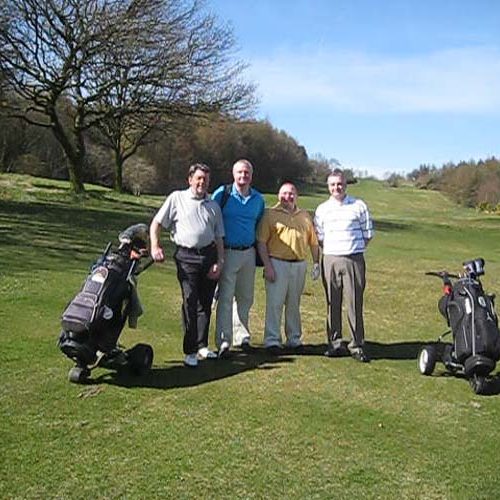 Frank McCormick, Iain Jones, George Boyd, Mark Cannon.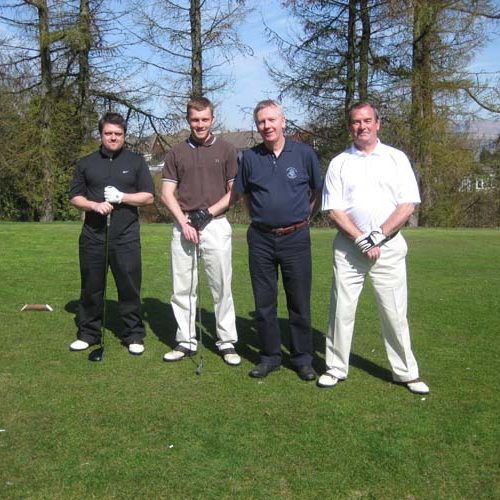 Jay Livingstone, Andrew Roy, George Deveney, Alex Jasper.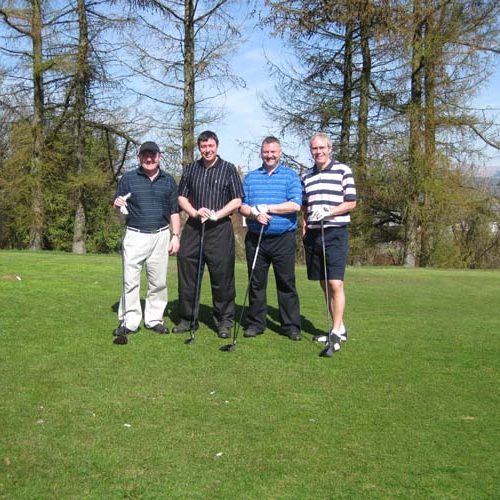 John McQuillan, Alan Kinniburgh, Jim Mitchell, George Anderson.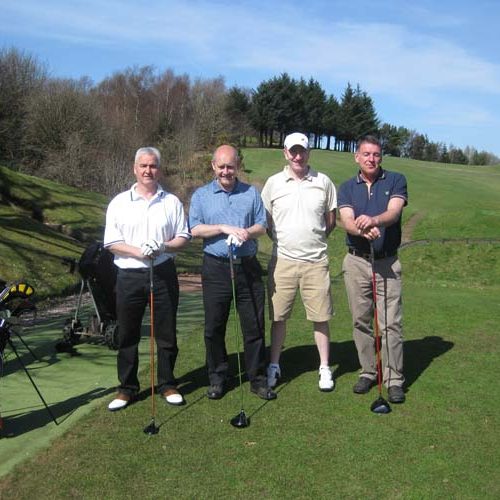 Jim Maxwell, Alex Roy, David Heron, Bobby Johnstone.
Allan Cameron, Joe Mitchell, Peter Gallagher, Paul Mitchell.
Jim Long, Gordon Parker, Stevie McDowal, John McKirdy.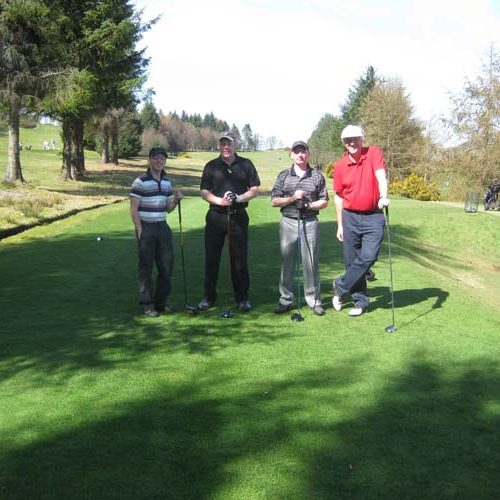 Kevin Murphy, Gordon McFarlane, Robert Leith, Kenny Gilmour.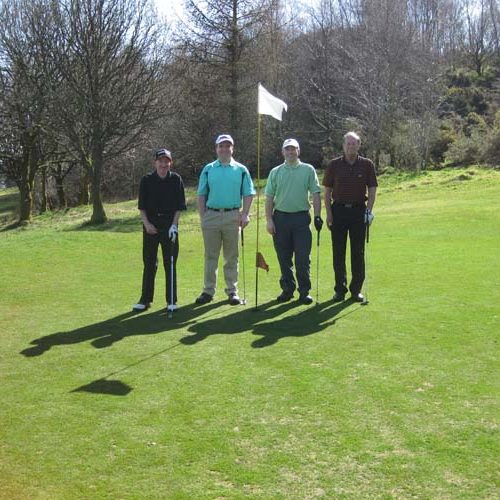 Dennis McKelvie, Brian Stewart, Owen Gallagher, Nicol McCloy.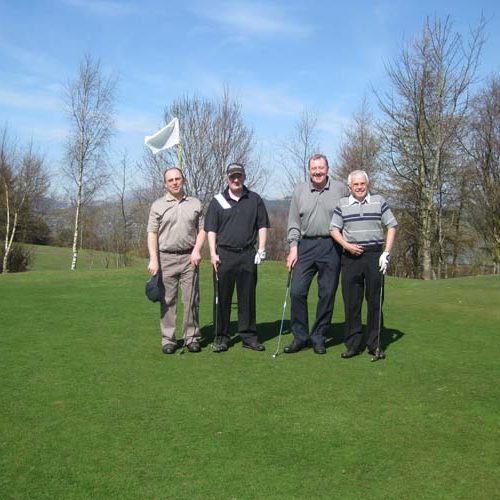 Paolo Spella, Duncan Maitland, Willie McConn, George Docherty.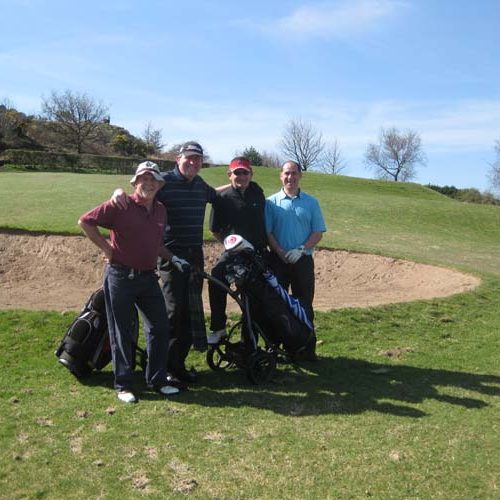 Bob Hossack, Alec Cloudsley, David Carney, Stephen Orr.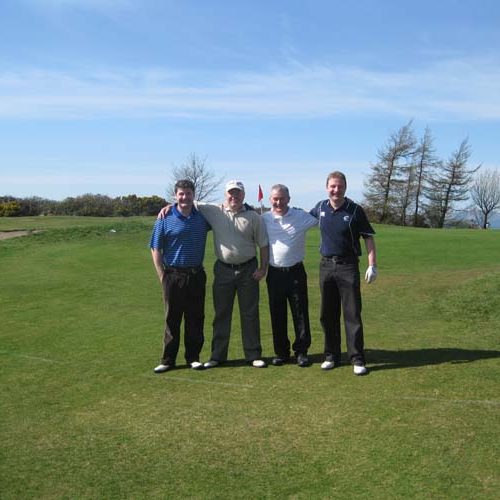 Mark Taylor, Davie Docherty, Kenny Roy, Graham Knox.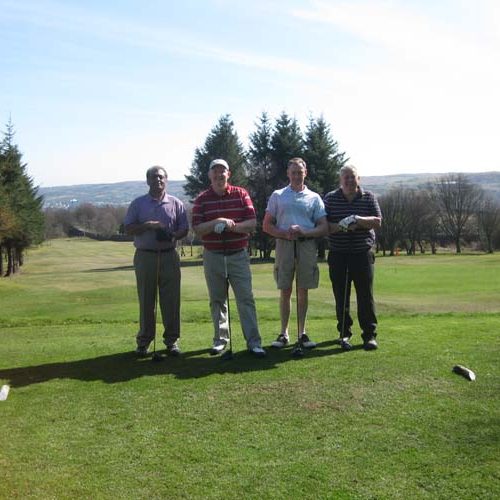 Sat Patel, Stewart Reid, Willie Kemp ( Put those legs away Willie), Murdo Parker.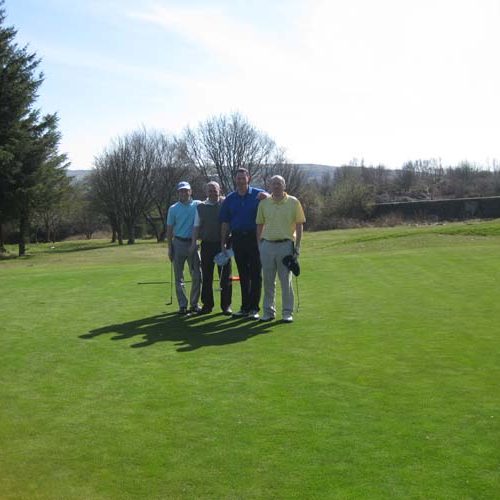 Tom McLoughlin, Scott Forrest, Andy Gunn, Stuart Blue.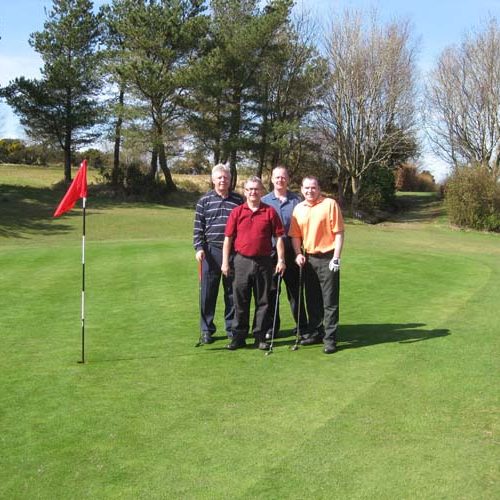 John Houston, Jim Fulton, Ian Doak, Jim Fleming.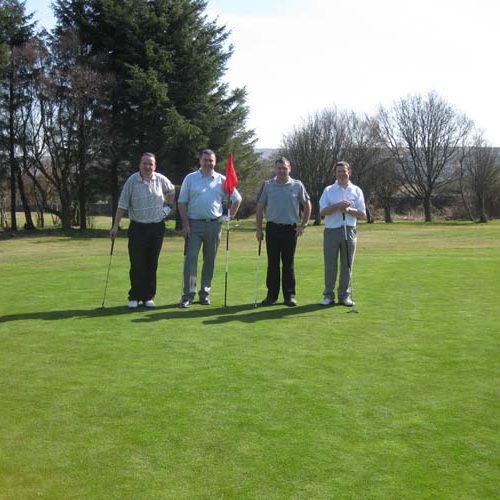 Jim Elliot, Gerry Bell, Pat Gallagher, Ally Gallagher.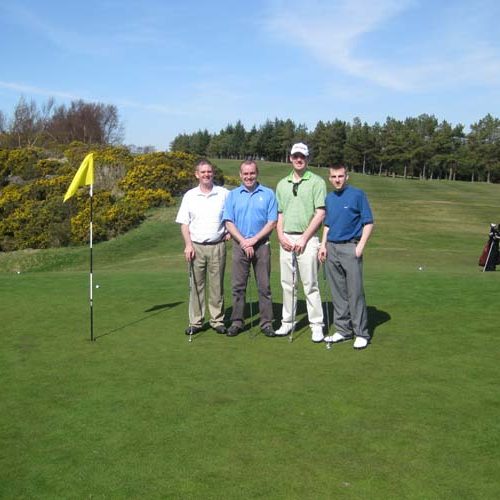 Pat McCormick, Alistair Roy, Stephen Mullen, Gordon Leith.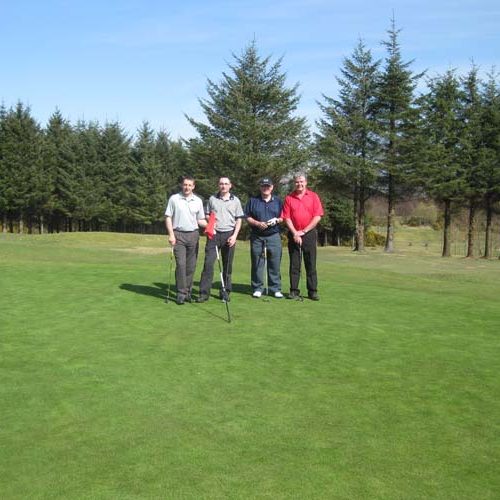 Jim Sweeney, John Ruddy, Bily Dixon, Rab McLaughlin.
Pat Tinney, Dan Maloney, Alan Young, Simon Harley.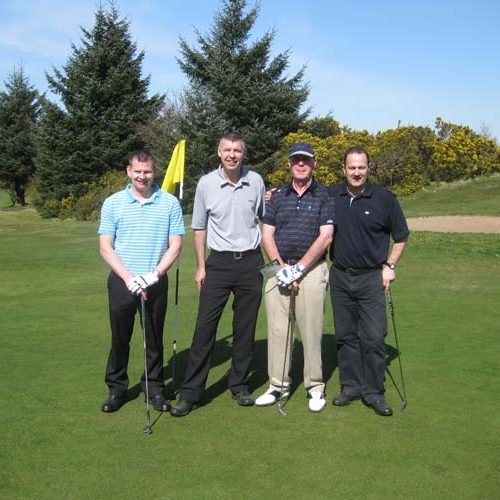 Brian Stevenson, Stevie Wilkie, Raymond Barr, Stephen McCafferty.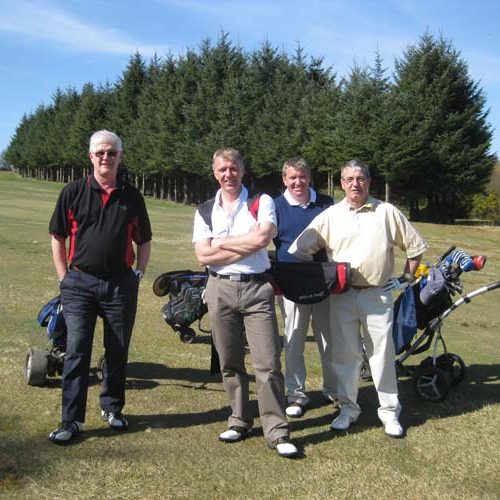 Bob McGill, Stuart Gallacher, Cha McGartland, Brian Sutherland.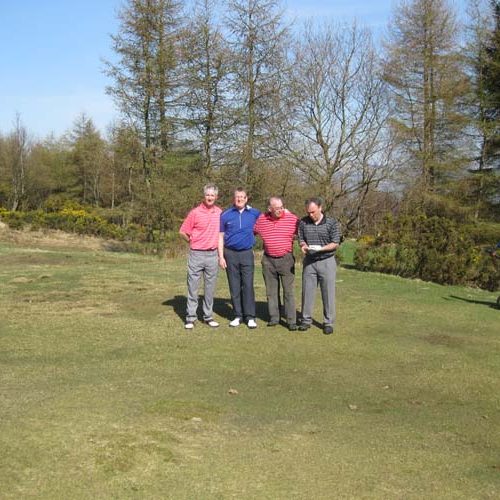 Kenny Piper, Gary Bonnar, Rab Murphy, Graham Hunter.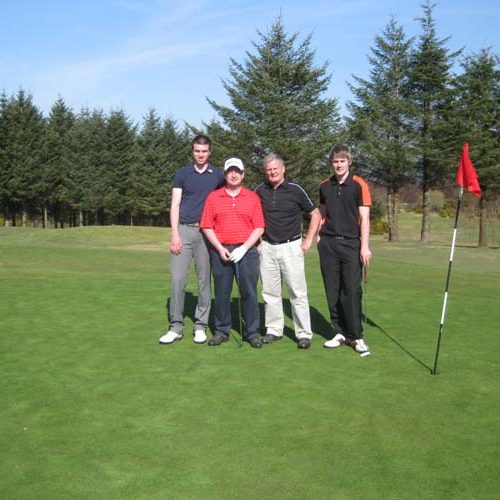 Mark Scanlon, Stephen Lapsley, Jim Kerr, Calum Gallagher.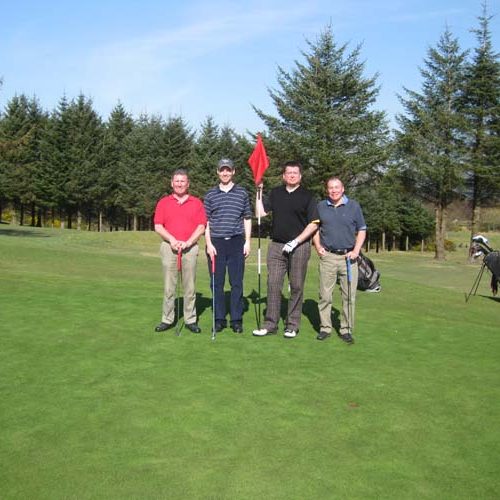 Ian McDermid, Duncan Anderson, Alistair Campbell, Jim Logue.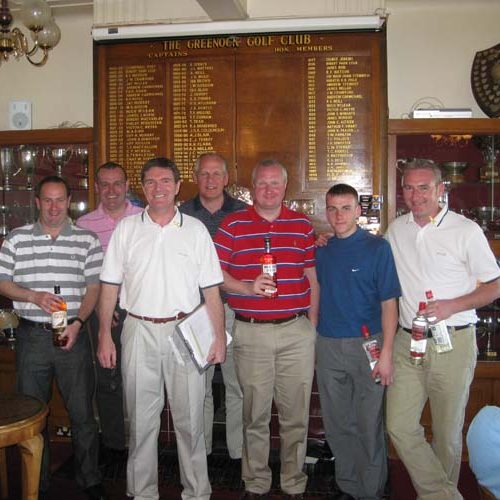 The nearest the pin winners with Captain Charlie Paul.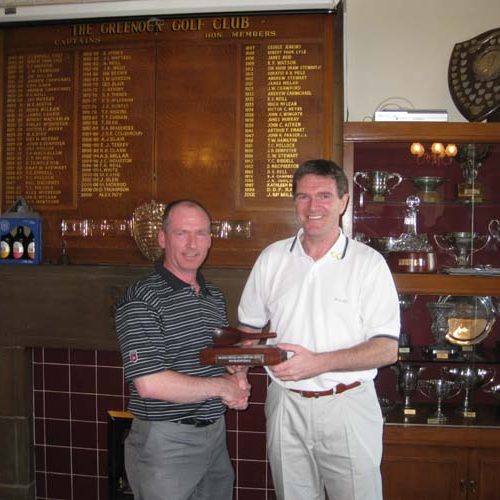 Wooden Spoon team captain Robert Leith receives his trophy from Captain Charlie Paul.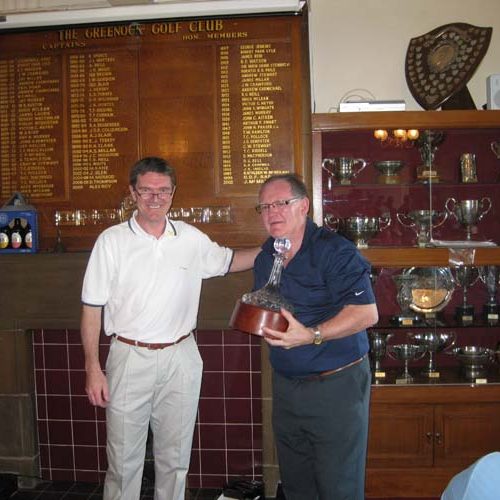 Billy Dixon had us all in stitches with his humble acceptance speech and good wishes for the loosing teams ( At least that's what he meant to do but it came out all wrong).