Yearbook 2009 – Newton Shield Winners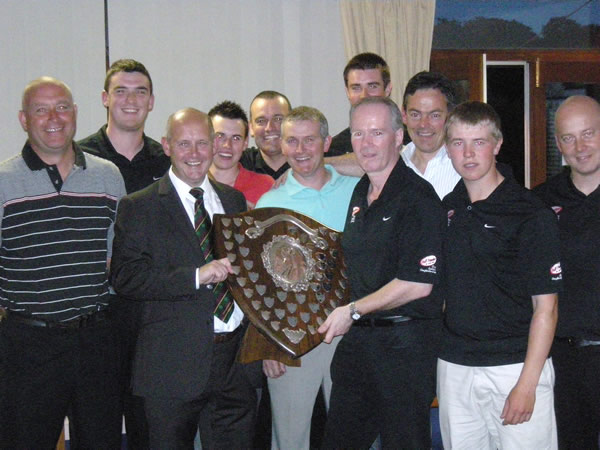 Greenock Golf Club are the champions of the Newton Shield league for the seventh time after
beating Cochrane Castle by eleven points to five in a closely contested match where five
games went down the eighteenth hole. The final was played over neutral venue Elderslie Golf
Club, which was in excellent condition and who are celebrating their one hundredth year.
The match commenced under cloudy skies in front of an excellent crowd who had braved
the conditions to support both teams.
 
The vast majority of the crowd assembled around the thirteenth green and then the seventeenth
where you can view several holes from the one vantage point. Thru thirteen holes the match was
evenly poised with each team winning in three games with two games all square. The first match
to be decided was Kenny Roy who was playing number eight and despite his dedicated practise
over the weekend he had an off night and succumbed on the thirteenth hole. Next game involved
multiple club champion Crawford Rae who gained an early lead in his match which he maintained
and he was two up playing fourteen which he then increased to three up as he eventually won his
game on the sixteenth hole by three and two. One game each.
 
Playing at number one was 2008 Club champion Craig Thomson and he was against Kenneth
Fairbrother who had recently won the 2009 club championship at Cochrane Castle. This was a
very tight game from the first hole with never more than one hole between both players. After both
players birdied the twelfth, Craig holed an excellent ten footer at thirteen for par to stay all square
before another successful putt on fourteen for birdie put Craig one up which was a lead he held
onto with solid pars at the last four holes.
 
Murdoch Carmichael fresh from winning Millport's Cumbrae Cup at the weekend with their lowest
ever scratch score 130 (65, 65) was playing fellow Renfrewshire county player Scott McGrenaghan
in another close encounter where there many birdies recorded by both players. Playing the
fourteenth Murdie was all square and quickly went two up with consecutive birdies only for Scott
to immediately fight back with his own birdies at sixteen and seventeen to leave the game all square
at the last. Unfortunately Scott hit his tee shot right at the last but this time there was no draw and
his ball went out of bounds handing Murdie a victory with a regulation par at the last. This was a high
quality game with Murdie round in three under par. Next game to finish was Alistair Roy who has a
proud unbeaten home record in the Newton Shield over the last three years but unfortunately this
year has struggled for form away from home. Alistair began strongly and had numerous chances to
build a very big early lead but was let down by his putter and with his opponents confidence beginning
to grow after a shaky start Alistair's lead disappeared at the ninth hole and by the time he completed
the thirteenth he was now two down and despite fighting hard a birdie by his opponent on the sixteenth
sealed his defeat by three and two. Greenock leading by three games to two.    
 
Team captain David Macfarlane was playing David Roberts and he was two down playing fourteen
after losing the previous three holes. With both players hitting their second shots left, neither player
had a clear shot to the green as the trees were in their way, David Mac played the percentage shot
to the right of the green and pitched & putted for his winning par. On the next hole an incredible birdie
from a wayward drive behind trees courtesy of a holed pitch from thirty five yards followed by a five
foot birdie putt at the sixteenth turned this game around and two regulation pars at the last two holes
secured a fourth win for Greenock.
 
The last two games to finish involved Jonny Caldwell and Graham Forbes with Greenock now only
requiring a half point. Jonny was playing J Kinning who was beaten finalist in the Cochrane Castle
club championship. Jonny who is now the second lowest handicapper at Greenock, played very
consistently and started with thirteen straight pars to be all square. A birdie followed by par put
Jonny dormie two up and the half point required for Greenock to become Newton Shield champions.
Unfortunately a poor finish resulted in a half game. Last to finish was Graham Forbes who has been
a find for the team this year and he was also involved in a very tight game after recovering from some
early setbacks. Graham was one up playing seventeen but had carved his tee shot right behind trees
but was informed he had to make three to win the trophy. Graham duly played onto the green and
holed from twelve feet to half the hole. A par at the last secured the fifth outright win for Greenock.
 
Greenock's record over the last two decades of the Newton Shield has been superb with six outright
wins and four runners up. This is an excellent record and one that all the players who have represented
their club can be rightly proud of. The next challenge is to successfully defend the trophy in 2010.
Greenock team players would like to thank Half Pounders for their continued sponsorship.

PHOTOGRAPH NAMES

Front Row : Club Captain Alex Roy (left) holding trophy with Team Captain David MacFarlane (right)
From left: M Carmichael (black/white stripe shirt), S Mullan (black shirt), G Forbes (red shirt), A Roy (black shirt), K Roy (light blue shirt), M Scanlan (black shirt), C Rae( white shirt), J Caldwell ( black shirt/white trousers), C Thomson (black shirt).